"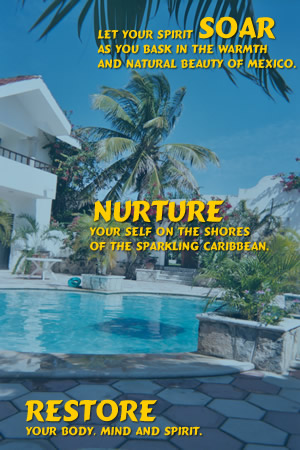 Winter Yoga Vacation in Puerto Morelos, Mexico
Week 1: February 10-17, 2018
Week 2: February 17-24, 2018 - FULL


The Yoga Vacation includes:

•Two daily yoga classes, 7:30-9:30 a.m. and 4:00-6:00 p.m.
• Brunch daily
• Welcoming and farewell dinners held at poolside
• Double occupancy at beautiful Villas Shanti and additional nearby accommodations
• Ample time to enjoy the culture and beauty of Mexico


YOGA: There will be two yoga classes held daily in the spacious screened yoga room surrounded by palm trees and flowers. Classes are alignment-based. Morning classes are more active and challenging. Afternoon classes will
include forward bends, twists, restoratives, pranayama, and meditation. The yoga vacation is geared to students with at least six months of yoga experience. Props are provided.

ACTIVITIES: Although there is plenty of time between yoga classes to rest and relax by the pool, in the hammock palapa, or on the quiet white sand beach, many activities are also available. The reef at Puerto Morelos is spectacular and easily accessible. Snorkeling is fabulous, either from the shore or by boat. Guests in previous years have enjoyed touring the Mayan ruins in Tulum and Coba, and exploring Xcaret Ecological Park. On one day mid-week, only one early morning yoga class will be held to accommodate those who wish to go on longer excursions.
ACCOMMODATIONS: Guests will stay in beautiful and serene Villas Shanti and in additional nearby properties located in the fishing village of Puerto Morelos, 22 miles south of Cancun. Each double room at Villas Shanti overlooks the pool plaza and has its own kitchen and bathroom. Bottled water and daily maid service are included.

MEALS: The yoga vacation includes a catered authentic Mexican dinner held at 7:00 p.m. on the Saturday evening of arrival and another on the following Friday prior to departure. Brunch will be served poolside each day after the morning yoga class. Small markets in town offer tropical fruits, vegetables, and staples for those who like to cook. One delight of previous groups has been to stroll into town in the evenings to sample the excellent local cuisine and to enjoy Puerto Morelos's charm.

TRANSPORTATION: Make your own travel arrangements to fly into Cancun. Travel between the between the Cancun Airport and Villas Shanti is easily available but not included. Shuttle service by van is approximately
$30 and cab fare usually runs about $40-$50. Make your departure plans for any time on Saturday, February 17 or February 24. The return cab fare is less expensive.


COST:
$1,655 Single occupancy
$1,225 Double occupancy


The cost includes accommodations, all yoga classes, a daily brunch and two special catered dinners. A $300 deposit for each week is required to reserve your space. All balances are due January 2, 2018. The deposit is refundable until October 15, 2017 minus a $50 cancellation fee. After October 15, the deposit is nonrefundable unless your space can be filled from a waiting list.

To keep costs low, checks are preferred. There will be an additional 3% charge for credit card payments. All checks should be made payable to THE HEALTH ADVANTAGE YOGA CENTER. To register, send your deposit to The Health Advantage Yoga Center, 1041 Sterling Road, Suite 202, Herndon, VA 20170, or call (703) 435-1571 with any questions.


See pictures of previous years

VISIT THE VILLAS SHANTI WEBSITE: http://www.villasshanti.com
---

Susan Van Nuys is the director of The Health Advantage Yoga Center. She has been a yoga practitioner since 1989 and began teaching in 1997. Susan has studied with many world class teachers, focusing on alignment-based styles. She received a BS degree in computer science and linguistics from the College of William and Mary and she particularly enjoys applying the logic she learned while programming to the progressive teaching of yoga poses. Susan's approach is warm and clear with an appreciation of individual differences.

Join Susan for a wonderful week as we connect to both our outer world through Nature and our inner world through Yoga.